To Order My Book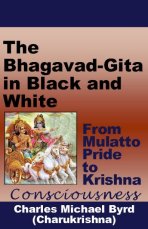 To order my new book "The Bhagavad-gita in Black and White: From Mulatto Pride to Krishna Consciousness" from Amazon.com, simply CLICK HERE.
For those living in Great Britain, CLICK HERE to order the book from Amazon.co.uk.
Canadian residents can order from Amazon.ca by CLICKING HERE.
Good reading to you. Haribol!
(Click here to return to blog main page.)