About
Charles Michael Byrd was born on September 2, 1952 in Abingdon, Virginia, and is of white, black and Cherokee heritage. Though white in appearance, he attended all-black Kings Mountain Elementary in Abingdon from 1958 to 1964.
The following year integration came to the public schools, and Mr. Byrd attended Abingdon High School in 1965. That was his first exposure to white kids in an academic environment.
In 1966 he moved to the borough of the Bronx in New York City and attended Evander Childs High School until graduation in 1970. In January 1971, he enlisted in the United States Air Force and served his country honorably — in the Aerospace Weapons Systems Security specialty — until his release from active duty in October 1974. Interestingly, his military records list him as white.
In 1982, Mr. Byrd founded a support/advocacy group — INTERace — for interracial individuals and their families in New York City and served as that group's President for three years.
From 1995-2003 he edited and published Interracial Voice, an award-winning Internet newsjournal serving the multiracial community in cyberspace.
Mr. Byrd organized the Multiracial Solidarity March which took place on July 21, 1996 in Washington, D.C. This was the first attempt ever to bring together individuals of mixed-race and their families to seek redress from the government. In this case, the purpose was to petition the Office of Management and Budget to establish a multiracial category on the 2000 Census. Additionally, the March protested the rising tide of white segregationist/supremacist and black nationalist/separatist sentiment sweeping the country.
Among numerous media credits, he has appeared on Jim Lehrer's NewsHour as well as Tony Brown's Journal. Additionally, Mr. Byrd has written Op-Eds for the San Francisco Chronicle and New York Newsday. Moreover, he was featured in the November 1996 issue of Ebony magazine.
A student of Vaishnava-Hindu scriptures since 1999, Mr. Byrd believes that individuals of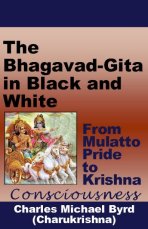 mixed racial backgrounds quickly begin searching for a higher spiritual truth, something that allows them to make sense of the madness behind lumping human beings into separate and distinct racial groupings. His pursuit and cultivation of spiritual self-realization has led him to now advocate abolishing racial categories entirely.
The primary purpose of this blog is to interact with readers, critics and reviewers of "The Bhagavad-Gita in Black and White: From Mulatto Pride to Krishna Consciousness." Additionally, any new articles written by Charukrishna (a.k.a. Charles M. Byrd) will be posted here.
Haribol! (Keep on chanting!)