Attention Media, Book Sellers & Interested Individuals
Hare Krishna! I am pleased to announce that my new book "The Bhagavad-gita in Black and White: From Mulatto Pride to Krishna Consciousness" (Backintyme Publishing) is now available for purchase on Amazon.com!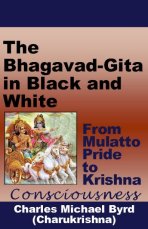 The primary lesson of the Bhagavad-gita (the essence of India's Vedic wisdom, and one of the great spiritual and philosophical classics of the world) is that we are not our bodies; rather we are the eternal sparks of consciousness, the spirit-souls, animating our fleshy forms. The practical application, particularly as it relates to the race notion is simple. You are not your body; therefore, you are not a representative of a racial or ethnic group. Studying the ancient Vedic spiritual philosophy residing in the Gita allows you to transcend race-consciousness and to realize your true nature as an eternal servant of God or Krishna.
As we look around us, though, not everyone appears ready to receive this transcendental message. Why aren't more people sufficiently awake and aware of themselves as something other than pawns in the game of racial and multiracial identity politics?
Nineteenth century transcendentalist philosopher Henry David Thoreau once remarked:
The millions are awake enough for physical labor; but only one in a million is awake enough for effective intellectual exertion, only one in a hundred million to a poetic or divine life. To be awake is to be alive. I have never yet met a man who was quite awake. How could I have looked him in the face?
The perennial philosophy of the Gita has intrigued the philosophical mind of man, both Eastern and Western, for millennia. Accordingly, Thoreau also wrote that in relation to the Bhagavad-gita, "our modern world and its literature seem puny and trivial."
How many people are ready for a book that deliberately mixes tough political commentary with spiritual meditations, a book that articulates what has transpired over the past decade and more in this country vis-à-vis the politics of racial identity? Specifically, I'm referring to the battles to freely and publicly name self (whether on the upcoming 2010 Census or otherwise) and for freedom of association — e.g., the fight over the legalization of interracial marriage. Once the insanity of it all becomes crystal clear, perhaps large numbers of Americans, regardless of how they currently self-identify racially (hapa, mestizo, metis, creole, latino, melungeon, cablinasian, mulatto, white, black or whatever), will opt to spend the rest of their lives cultivating spiritual enlightenment — the ability not merely to name self but to know self.
We should encourage those individuals who feel that they are able to "have" this message to order the book now. If they feel more comfortable, however, continuing to identify with the body, not yet being prepared to "have" the mystic revelations offered in "The Bhagavad-gita in Black and White: From Mulatto Pride to Krishna Consciousness," that's okay as well. We should wish them God speed on their lives' journeys!
**********
Born in 1952 in Abingdon, Virginia, Charles Michael Byrd is of "black," "white" and Cherokee heritage. From 1995-2003 he published
Interracial Voice
, an Internet newsjournal serving the multiracial community in cyberspace. Among numerous media credits, he has appeared on both
Tony Brown's Journal
and
Jim Lehrer's "NewsHour"
and has written Op-Eds for the
San Francisco Chronicle
, Newsday and
The Times Union of Albany
.He was recently interviewed for the Washington Post article entitled
"A Part Colored By History: Choice of White Actress For Mixed-Race Role Stirs Debate on Insensitivity."
Additionally, he was interviewed by Adam Abraham, host of the weekly "Talk For Food" podcast on WebTalkRadio. That segment — entitled
"Beyond Race and Into Spirit"
— runs for approximately one hour.
Furthermore, Mr. Byrd was interviewed by The Montclair Times of New Jersey ("Transcending the quest for racial identity") prior to his October 4th appearance at Watchung Booksellers.
A student of Vedic scriptures, Mr. Byrd believes that individuals of mixed racial backgrounds quickly begin searching for a higher spiritual truth, something that allows them to make sense of the madness behind lumping human beings into separate and distinct "racial" groupings.
**********
Charles Michael Byrd (Charukrishna) is available for media interviews. To contact, please call 718-909-1878 or email to chasbyrd@verizon.net.
Thank you and Haribol!